Renting

Are you looking for a place to live in (the surroundings of) Amsterdam of Utrecht?
Are you looking for rental properties in Amsterdam or Utrecht? Home to rent is the real estate agent that can help you. We have over 15 years of experience mediating on the housing market to find suitable properties for tenants like you. In only 7 steps you can find and rent a property through Home to rent:
Register for free without any obligation
Browse Home to Rent's listings
Make an appointment for a viewing
Viewing with a Home to Rent agent
Yes, I want to live here
Statement of Intent
We got the key!
Documents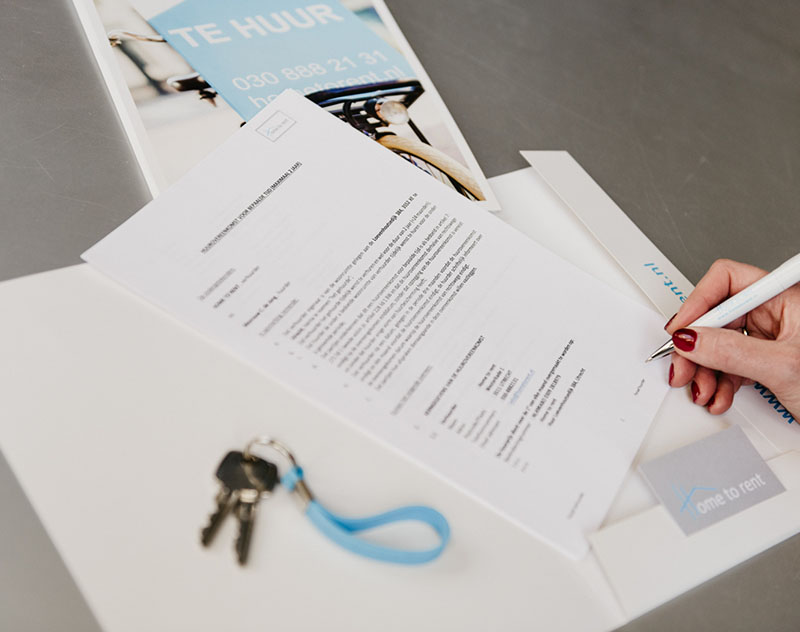 I want to rent a house from Home to Rent – how does that work?
1. How can I find my dream house?
You will be kept informed about our active listings, without any obligation, by registering. There is no charge for online registration, and no obligation for either party.
You can also place a search with Home to Rent for a fee. We'll search for a suitable rental property that meets your needs and desires. Please contact us to find out about rates.
2. Searching Home to Rent's listings
You can always find our most up-to-date rental listings on the website www.hometorent.nl. For each listing you will find a clear indication of what kind of property it is, with information about the m2, interior (furnished/fittings), availability, and the rental price. If you have any questions about a listing, please don't hesitate to call us.
3. Making ​an appointment for a viewing
When you've found a house you'd like to view, and if you meet the eligibility requirements, you can call or email info@hometorent.nl. In general, viewings take place during office hours. Home to Rent is open on Monday, Tuesday, Thursday and Friday from 9:00 am until 5:30 pm, with the exception of national holidays. We only work by appointment.
4. Viewing with a Home to Rent agent
If you are invited to a viewing for one of our listings we will make an appointment with you and other candidates; each candidate will have a separate, private viewing. It's important to us that potential new tenants have the time to look around inside a rental property.
5. Yes, I want to live here – how do I indicate that?
After viewing the property, I will give you – if possible – time to arrive at the right decision. Better a good decision than a quick decision. If you decide afterwards that you are interested in renting the property, let us know as quickly as possible, as we have informed you verbally.
6. Statement of Intent – what do I need for that?
Home to Rent will contact the owner to propose you as the potential tenant depending on the statement of intent you have completed in advance. If the owner agrees, Home to Rent will draw up the lease and ensure it is signed by both parties.
In order for the lease to be drawn up, the tenant has to provide the following documents*:
Statement of Intent
Copy of valid passport/identity document
Copy of recent salary specification (dated no more than 2 months previously)
Valid employment contract/employer's statement, including the organisation's contact person
Lessor's Statement (from the previous lessor, when applicable)
Third-party guarantee if the income requirement has not been met.
In order for a commercial lease to be drawn up we ask the tenant to provide the following documents*:
Recent extract from the Chamber of Commerce (dated no more than 3 months previously)
Copy of valid passport/identity document of the person with signing authority according to the Chamber of Commerce extract
Bank guarantee or accountant's statement with rental guarantee.
* Are there circumstances which make it impossible to provide the information stated above? We can often help you in consultation. Please do not hesitate to contact us for more information.
When the lease has been signed, you will pay the first month's rent and the security deposit to Home to Rent according to the invoice given. The security deposit will be re-deposited in your account by the lessor when the lease has ended. Home to Rent accepts no liability in this regard.
If you have any questions about the contents of the lease you can always contact us at Home to Rent.
Hooray! We got the key!
When the lease has been approved and signed by both parties, an inspection and key transfer will take place at the property. During the key transfer the interior will be inspected using an inspection report checklist and/or inventory. A photographic report or video will also be made of the interior at the time of delivery as a supplement to the inspection report.
Documents
Within two weeks of the transfer of the property, the tenant will receive the complete and signed documents from Home to Rent on behalf of the owner:
Lease
Appendices
Inspection report
Photographic report of the inspection.
For more information please contact us by telephone or send an email to info@hometorent.nl
Would you like to call us?
We are available Monday through Friday from 9:00 AM to 5:00 PM on: